Show Notes
About Tara
Tara, 45,  is a mother of four with an educational background in classical archaeology and history.  She enjoys traveling and has gone to western Europe, Egypt, the United Kingdom, and Greece as part of her career. Having studied history and archaeology, she had previously worked on archaeological excavations. Previously, she volunteered at Newland Gristmill before the pandemic hit. They had a public archaeology program, so she helped out every now and then. She was also once employed at the Penn Museum and even though it was her dream career, she had to leave it to have a family. It was a difficult decision, but it was worth it in the end.
Struggling with Autoimmune Diseases
Tara has had a long history of autoimmune disorders. Throughout her life, things have become worse, especially after she had children. She's been having trouble striking a decent balance between eating well, exercising, and completing all of her responsibilities. She was bouncing around places, thinking that going to a big box gym would be the answer, but it wasn't. It turned out that it wasn't the right fit for her.
Tara had spent her whole 30s focusing only on her children rather than on herself. She knew she needed to concentrate on herself and get well once she approached 40 because her autoimmune issues were not going away. It isn't getting any better and she must find a way to deal with it.
Her physicians say that lowering her blood pressure and losing weight will be highly beneficial. Then, more recently, learning that she has a heart ailment called a thoracic aortic aneurysm, something that suddenly happened to her and has no actual cause other than being linked to all of the other autoimmune issues. So her cardiologist encouraged her to lose weight, perform strength training, or weightlifting, but not to the point of exhaustion.
Winning a free membership trial
Around April 2020, her friend Kathy contacted her to say that she had signed her up for a free trial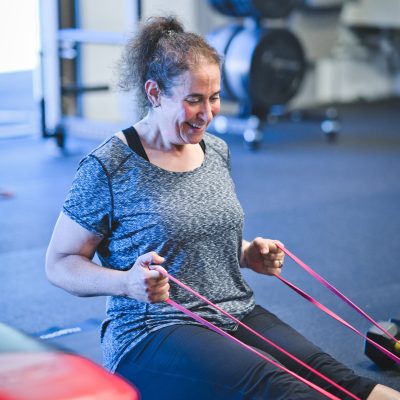 membership at a gym. Tara had no idea what it was all about because she had spent so much time focusing on others. Deflated by her big box gym experience, she decided to stop going to the gym altogether.
Checking the Bent On Better website, she was surprised to see people of various shapes and sizes, from different ethnic backgrounds, and it appeared to be a welcoming group. As a result, she contacted her friend and agreed to sign up for the free trial. When she met the trainers, the members, or "family," as she refers to them now, it was a life-changing experience.
Starting Small
When Tara first started working out at the gym, she was convinced she couldn't perform the heavy lifting. While she did occasionally use kettlebells or dumbbells, she mostly relied on bands and other equipment which allowed her to build up her strength and endurance tremendously.  Lifting all of these enormous weights isn't something you should do right away, but she's worked her way up to it.
Finally, she was able to lift huge weights without pain, and she was able to successfully complete the movement several times. Despite the fact that it took some time, she was pleased by her abilities. She began with low weights, she was moving slowly and deliberately, focusing on the form, stability, and balance of each movement. Getting consistent with this routine has been life-changing for Tara.
Her Happy Place
According to Matt, owner of Bent On Better, when it comes to anyone who has had to battle with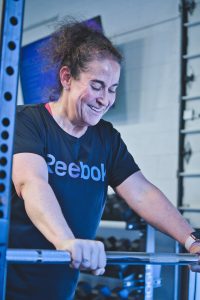 autoimmune disease for most of their life, you don't have to go headlong into this unlimited 60-a-week, seven-days a week workout program. Inflammation is a major factor in autoimmune illnesses, so it's okay to start slow and small if that's what feels right for you. Because of this, anytime Tara has an inflammatory episode, she would still come to the gym and the coach would make adjustments so that she could still execute the workout. There was no judgment, only encouragement; and she found a welcoming environment where everyone wanted to be there for one another.
When asked what kept her stay, Tara quickly responded that it was the supportive community she belonged in.
"The community of people at this gym – I have never met a more amazing supportive, awesome, friendly, sincere, accepting, like nothing like it anywhere, so when I think of Bent on Better, I think of community because it's a huge part of what this gym is, and I know all the trainers feel the same way. It is what brings everybody together for this common goal of living better, living healthier, living longer, being able to enjoy your life, no matter where you are in your life, that's really what it was." – Tara K.
Final words:
After everything Tara had been through, the gems she had unearthed that she could share with us was the realization that you can accomplish anything. You can persevere, you can push through any obstacle you've had in your life regarding your health, wellness, and fitness journey.
It may be frustrating when trying to work out with an autoimmune disease. There's a lot to consider, and it's easy to become overwhelmed by it all. The only way to deal with life is to take each day as it comes. Everything will start to fall into place once you get started. When you approach each new moment without fear or hesitation, you're tapping into your fullest potential. And if you can do that, then anything is possible.
For everyone out there who may be on the fence about jumping into another exercise program and felt that you just had exhausted all of your resources,  you haven't. You have not exhausted them. "You need to try Bent On better you need to come here and see for yourself the amazing and hard-working community of people. And when I say community, I mean everyone – the gym, members, I mean the trainers,  we're a big family here. You need to come and try it out, and you need to see for yourself that you absolutely can do it." – Tara K.
Watch the video here: