The Top 3 Benefits
of Warming Up
---
Wellness Wednesday with Bent On Better:
The Importance of Warming up
There are many benefits to warming up your body before performing a physical activity.
The National Academy of Sports Medicine recommends that the cardiorespiratory portion of a warm-up last between 5 and 10 minutes and be performed at a low-to-moderate intensity level. Below you will find some of the top benefits of warming up.
The benefits of warming up


(and the effects)

Benefit #1:
Increased heart rate and respiratory rate
Effects:
Increases cardiorespiratory system's capacity to perform work
Increases blood flow to active muscle tissue
Increases the oxygen exchange capacity
Benefit #2:
Increased tissue temperature
Effects:
Increases rate of muscle contraction
Increases efficiency of opposing muscle contraction and relaxation
Increases metabolic rate
Increases the soft tissue extensibility
Benefits #3:
Increased psychological preparation for bouts of exercise
Effects:
Increases the mental readiness of an individual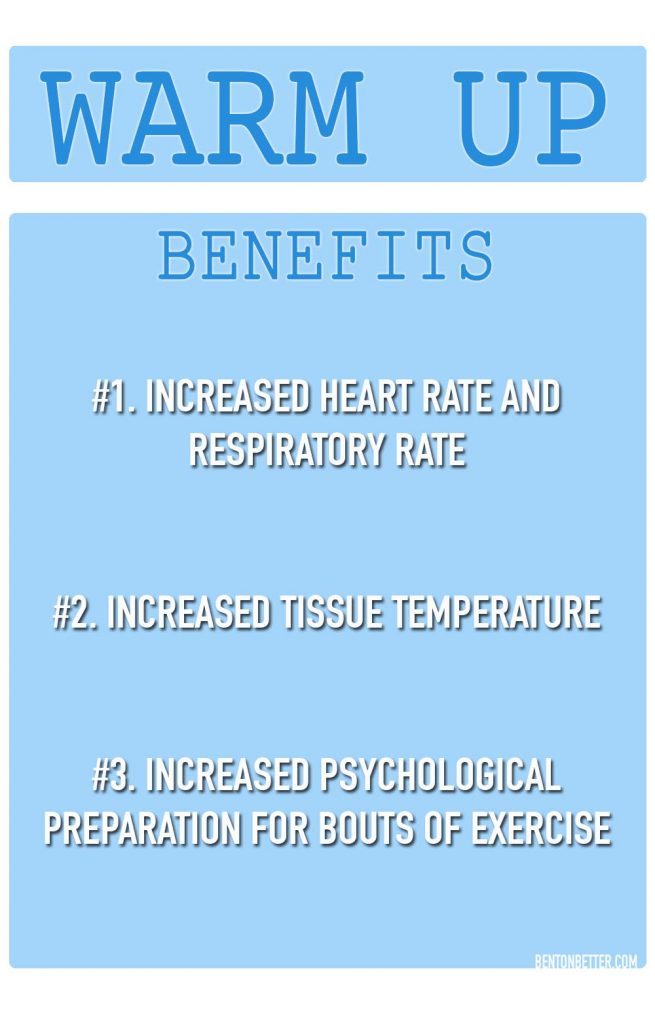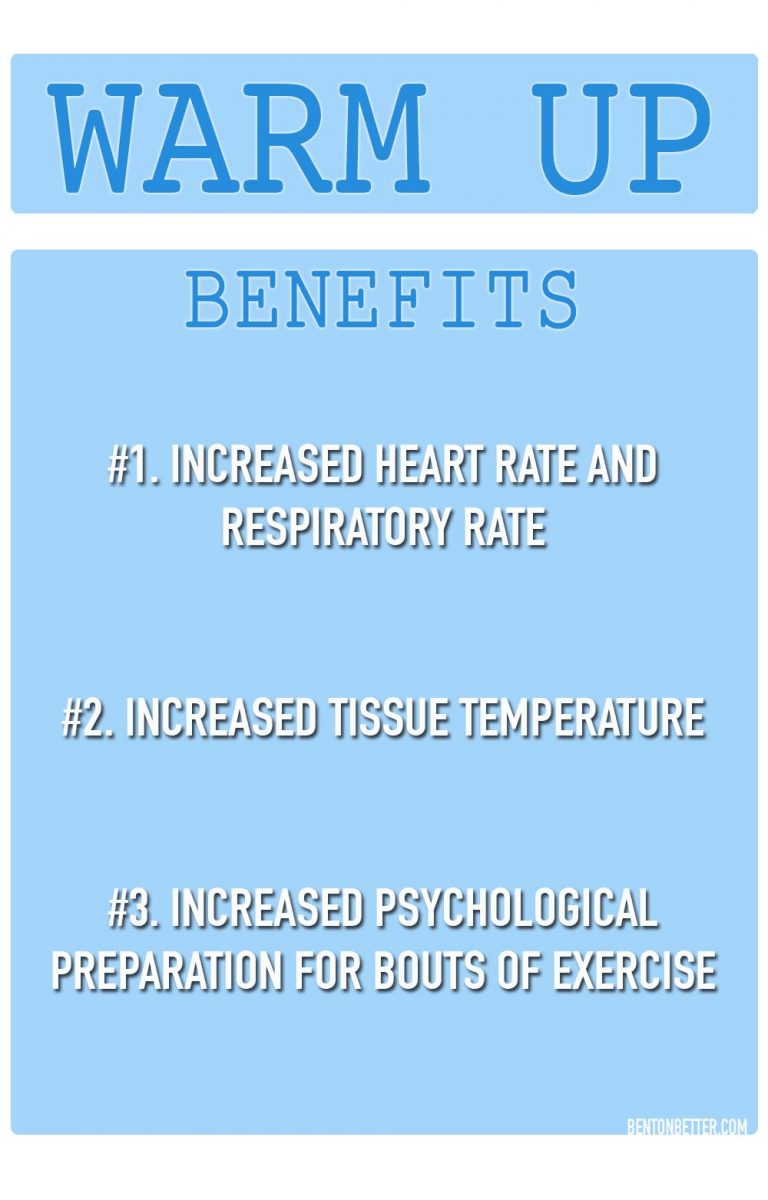 [smart_track_player url="http://traffic.libsyn.com/bentonbetter/WW__Benefits_of_warming_up.mp3″ title="The Top 3 Benefits of Warming Up" artist="Bent On Better" image="https://www.bentonbetter.com/wp-content/uploads/2015/06/HEALTHFITNESS.png" social="true" social_twitter="true" social_facebook="true" social_gplus="true" social_linkedin="true" social_pinterest="true" ]
---
Thanks for joining me again this week, I'm glad you decided to come back.  
If you enjoyed this episode, please share it using the social media buttons you see at the bottom of the post (or just copy and paste the link wherever you want to share it, that would work too!).
If you have any questions you'd like addressed personally, feel free to email me at [email protected].
Lastly, don't forget to subscribe to the show on iTunes to get automatic updates, available for both iOS and Android on Stitcher!  
---
Clark, Micheal, Brian G. Sutton, and Scott Lucett. NASM Essentials of Personal Fitness Training. N.p.: n.p., n.d. Print.