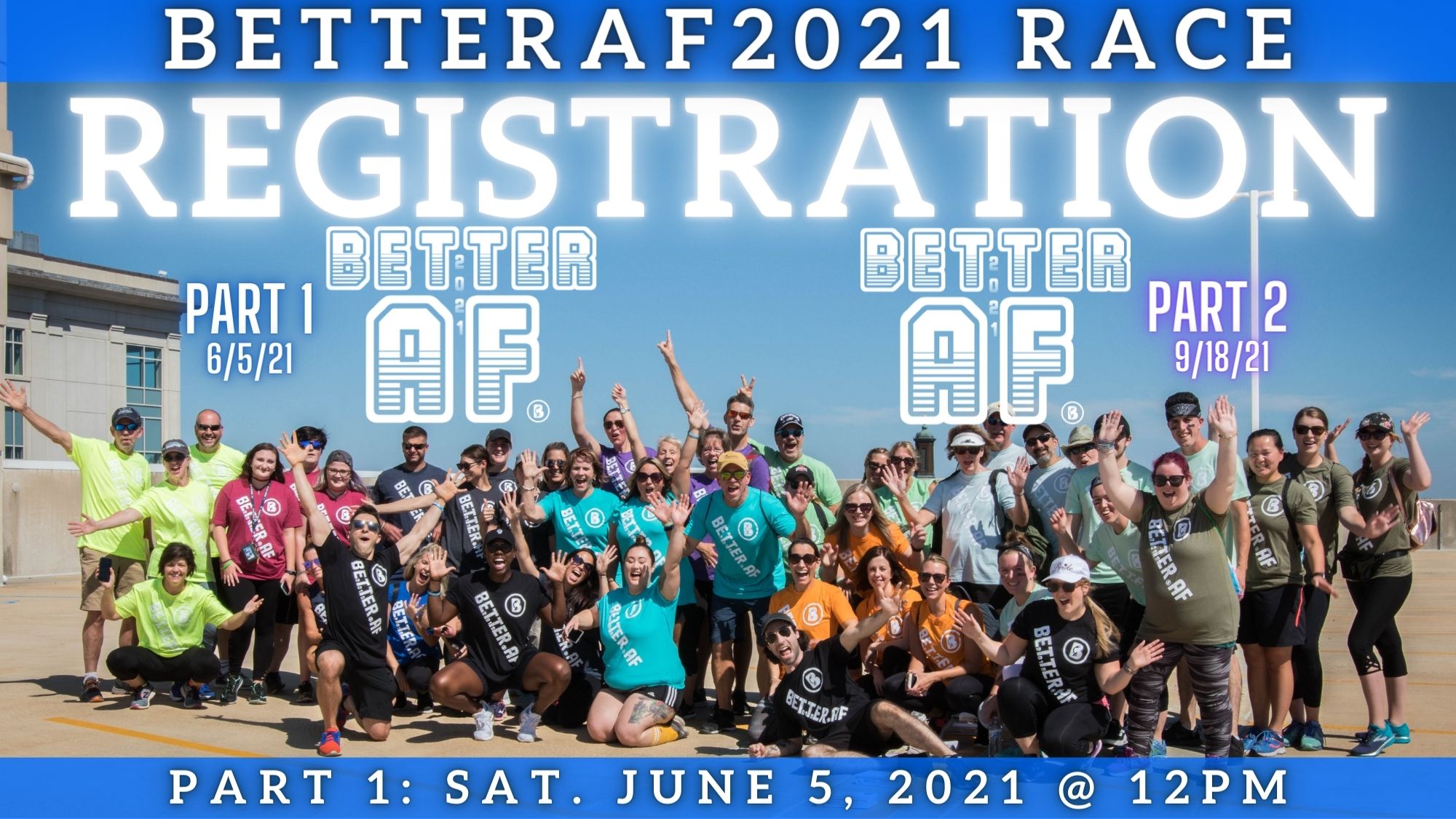 ARE YOU READY FOR THE 3RD ANNUAL BETTERAF RACE?
This year, we're splitting the race into 2 parts.


Details:
- Part 1:  June 5, 2021 at 12pm - 2pm
- Teams of 4 will compete to win!
- Entry Fee: $20
- Winning team of part 1 will receive an advantage for part 2 in September!
Check out the past 2 years of the BetterAF Race
Click the GREEN BUTTON to register with your team,
or register as a FREE AGENT to join a team!
F.A.Qs About The BetterAF2021 Race
WHAT IS "BETTERAF?"
The BetterAF Race is where participating teams of four (4) B.O.B. fam members team up to complete riddles, find items on a scavenger hunt, get 'crowd participation,' and do physical challenges, all while competing for bragging right to be named the BetterAF2021 team of the year, and sign the BetterAF Cup in our lobby.
WHY DO YOU DO IT?
Why not? Your road to a happier, healthier, stronger, more confident, more energized, wonderful-human life shouldn't only be focused on workouts and food, you need to enjoy life, too!
WHY SHOULD I ATTEND?
This is one of our most favorite activities to do with our BOB fam community because it gives us the opportunity to have fun with the same people we sweat and get sore with each day.  This is also a great excuse for parents to have their spouse or significant other watch the kids, and for you to get out on a Saturday and leave the rest of life on hold for a little while.  You can also create/make/solidify some wonderful BOB gym fam friendships that can span beyond the walls of Bent On Better.
WHAT IF I DON'T HAVE A TEAM?
Don't sweat it!  If you're flying solo right now, fill out the registration form as a "free agent" and we'll find you a team or create a team for you!
WHAT IF WE DON'T HAVE FOUR (4) BOB MEMBERS?
Not enough members for a 4 person team? That's ok!  You can add up to two (2) non-members to your team!
HOW MUCH DOES IT COST TO PARTICIPATE?
The race this year is 2 parts, it is $20 for part 1 of the race and will be $10 for part 2 on September 18, 2021.
I DO NOT LIVE LOCALLY, CAN I PARTICIPATE?
You coulldddddd if you wanted to come out this way, we live 1 mile away if you need an air mattress to crash on, haha. (or you could get a hotel or AirBnB!)
WHERE WILL WE BE FOR PART 1 OF THE BETTERAF2021 RACE?
We will meet at Bent On Better and outside, rain or shine!
ARE MASKS REQUIRED?
Masks are optional, we will be outside!