About Andrea
Andrea, a mother of 7, overseeing a rather bustling household, takes a sunny perspective on life. She loves walking, which is her number one go-to exercise, simply enjoying the outdoors with friends, breathing fresh air, and appreciating the scenery. Her passion and creativity is also channeled to her small business, mrsjhandmade, sewing limited editions of baby clothes, aprons, and other unique items such as embroidered key fobs, crossbody wallet, and tea towels, mainly using organic fabric.
Some Challenges
Over time, it became a mystery to Andrea that despite her efforts to exercise and control her diet, she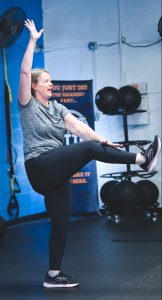 "still can't bring her weight to the scale." And while she always hoped to lose some weight, she has learned to enjoy her unique fitness journey by embracing her authentic self, simply enjoying the process of improving herself and not minding the numbers on the scale.
Andrea has been trying out different gyms for the past few years to maintain her lifelong goal of getting fit. A little over two years ago, she and a friend signed up for a small group fitness class, and on their second visit, she felt an odd pop in her knee. She had no idea what had happened, and neither did the trainer. When Andrea went to the doctor, she was told she needed surgery for a torn meniscus. When she was ready to begin working out again after her recovery from surgery, her husband encouraged her to choose a gym where she would feel more secure.
Getting in the Bent On Better Gym
Andrea didn't have to look very hard to locate a secure and proper gym because she knew Matt, the owner of Bent On Better, through her friends. Throughout the entire process, Andrea has had the impression that Bent On Better genuinely cares about its members' safety.
"What typifies a workout is that the trainers in the class are walking around and adjusting form for safety, so you can get your best outcome, so you can push yourself a little harder, to lift something a little heavier or make this small modification to challenge yourself a little bit… no one is checked out on any level and it's meaningful." – Andrea J.
Thriving through the Pandemic
Despite the pandemic, Bent On Better was able to continue its training sessions. From the initial meeting to deciding what to do, to putting together the virtual workouts, the Bent on Better team was able to pull it through. Andrea didn't feel as if she was doing it all by herself anymore with her home gym set up. Even if it were on her phone or a laptop, her trainer would continually check if she was doing her form correctly, and it felt like she was still meeting up with everybody.
Working out with Bent On Better
While Matt highlighted Andrea's success as a result of her broad decision to take charge of her health and find enjoyable ways and means to keep herself fitter, she was quick to point out that she didn't do it by herself:
"I didn't do it by myself, I didn't have to come up with it by myself, and I didn't have to sustain it by myself or think creatively for how I can challenge myself next. It was here and so it really does make a difference that I'm not  just having goals but I have a means and a place to be successful and people that are committed to my success and it is not about plunk-down-your-money-here's-the-class-times kind of gym but it continued to be an engaged relationship on your part, so it makes a difference that I'm here with Bent On Better." – Andrea J
Aside from the trainers, Andrea also noted the value of her fellow members:
"There are differences in political  affiliations, religious affiliations, differences in skin color, and differences in fitness levels and strength level and it is a really glorious place to  be. The varying fitness levels are all celebrated and the way that you make much of successes big and small is really significant. I think with such fondness and gratitude to the ones who welcomed me in my early days and nobody was unkind at all. They are still kind of my people here today and the ones that I check in with over time. Aside from the trainers,  it's also the members who are cheering for each other that make this what it is." – Andrea J
Conclusion
When you first start your fitness journey, it can be easy to get carried away with the idea of losing weight. Then when you find yourself struggling to make progress towards that goal, it can be tempting to give up. It's important to remember that the goal is not simply to fit into those skinny jeans. It's about becoming healthier, stronger, and fitter than you are now.
So long as you're exercising to feel good and increasing your health, not necessarily striving for a certain number on the scale, you are winning. Remember, weight loss isn't the ultimate goal of a fitness journey. Instead, focus on all the things fitness does for you. It helps reduce stress, makes you look leaner, and drives nutrition deeper into your lifestyle, so you never have to stop doing it.
Follow Andrea on Instagram for more of her handcrafted goodies.
Watch the Video Here: