In Memory of Glenn:
Glenn has always been a strong, reliable, athletic, and inspiring Bent On Better community member. He understood and appreciated his community, which made people naturally gravitate toward him.
For Glenn, we want you to be remembered for the strength you and your wife have poured over our community, not just as a Bent On Better member but as a man who never stopped fighting for the people he loved.
Here is His Story:
Glenn has lived all over the country but it was in this community of West Chester that he found a home. Glenn has always kept himself busy; he was a facilitator of adult training programs, an executive coach, business consultant, and founded his own company of 30 years, which he bought from his father. Glenn made it his duty to develop the "people's side" of a business' capabilities with his company, Strategic Learning Inc. He wanted to help businesses with learning to learn, relate, and choose – skills essential in running a company, a family, and even maintaining relationships.
For years, Glenn had been in the best shape. He grew up in a University town in the late '70s with good equipment, coaching, and weight-lifting. Training started in the summer spanning all year round up until he graduated in 1981.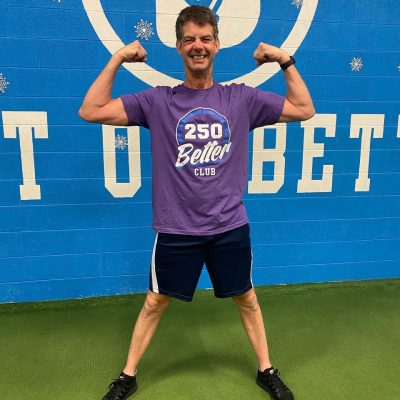 As a 59-year-old adult, he continued his days as an athlete wherein he found an interest in Ice Hockey through his daughter and son, who also loved skating. His daughter's interest in the sport led him to start a girls' hockey team, which eventually motivated him to start his own pick-up hockey team. At 6'5" and weighing around 230 pounds, Glenn was unstoppable in his newfound sport!
Getting to Know Bent on Better
He first heard about Bent On Better from his wife – whom he met in college in 1984 when she was a Sophomore and him a Junior. A simple helping hand while moving her couch in her college dorm soon sparked a romance between the two, and they've been inseparable ever since!
Because of his wife's insistence, he joined the Bent On Better fundraiser along with his hockey friends. Glenn's wife was an absolute beast in the gym, very much the opposite of Glenn, whose butt was kicked from doing his first few push-ups.
However, life had its own way, which led Glenn to halt his Bent On Better gym visits. He continued to have problems with his business, one of which was being scammed out of hard-earned money by someone he once knew as a friend.
One night as he was reading an article called "The Benefits of Synchronous Movements To Couples," which talked about how moving in synchrony develops a closeness to the people around you, Glenn decided to get back to working out at B.O.B. with his wife. Within his first 2-weeks back at the gym, he started seeing progress; he could do ten more push-ups than before, he began to lose weight, and he even got better at skating.
Jan and Glenn's Bent On Better Story

What Glenn loved about Bent On Better was that the coaches could tailor the routine to what you can do and do with proper form. He described himself as "stubborn" and "stuck in his ways," but B.O.B. knew how to encourage him to do the right thing without demanding it. Even when the coaches found out about how Glenn at one point had a bulging disc on his back which sent him to the emergency room, and how he absolutely did not want to injure his back again, they continued to work with him until he could notice how his legs, arms, and even back got stronger.
"If you're looking for some weird-looking cool mechanical machine that makes you feel like you're in the 22nd century, that's not what this is about. If you're looking for somebody to have this humongous body and say, "Look how big I can get! Come to this gym!"…well you can get a big body if you want one but that's not really what this place is about. But if you want to be in good shape (great shape!), and fit, and feel great about your body, and your overall health, and you want some personal attention to make sure you're doing things right because free-weights haven't been your thing in the past or whatever else – this is a perfect place!"
At first, he was skeptical of the whole process, but he continued to follow through with his routines until he eventually realized what it actually does – he and his wife continued to get in better shape. 
On Resilience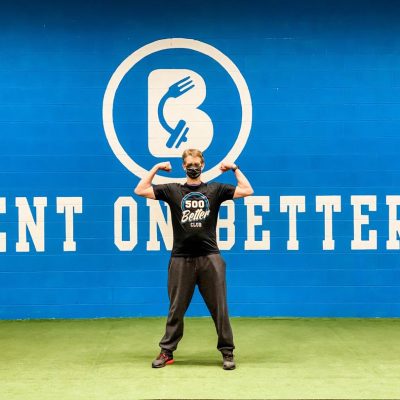 Even during Covid, Glenn praised Matt on how quickly he could pivot into going virtual with Bent On Better. Glenn and his wife continued to do their workouts through Zoom, and as a businessman himself, he recognized how hard it was to run a business during a pandemic. During these times, while doing his sunrise workout with everyone at the beach, Glenn started to see how fun it was to be a member of B.O.B. 
"Anything I can turn into a game, I can do better. If it's a game, I can play and if I can play, I can have fun." With Bent On Better, he found a community. And as much as he loved working out, he loved the community the most, which all came as a wonderful surprise to Glenn. 
The Big C
Life still wasn't all sunshine and rainbows though. A year ago, Glenn started to feel a pain in his leg. Nick and Alysha saw him limping during one of their group workouts and urged him to get it checked. After a good amount of pushing from his coaches, Glenn finally scheduled to get an appointment with his orthopedist on October 30th. It was then that they found out that he had cancer on his left leg and had to get surgery and chemotherapy the following Monday. 
As heavy as the news was to Glenn, he had the confidence that he was going to recover. He considered his excellent health and fitness a good backer for making it through this setback. But life wasn't cutting him some slack; they ended up having to reschedule the surgery and after three days, his leg later broke on its own – cancer eating it away.
But even this didn't phase Glenn. Being stuck in the hospital in the middle of the pandemic made him realize how important his community was to him and he could not wait to get back to the gym. 
"Bent On Better saved my life! It really did… I mean I'm pretty confident I wouldn't be sitting here right now if it wasn't for them paying close attention. So if you don't need help with the form, just at least having somebody observe you is a good thing."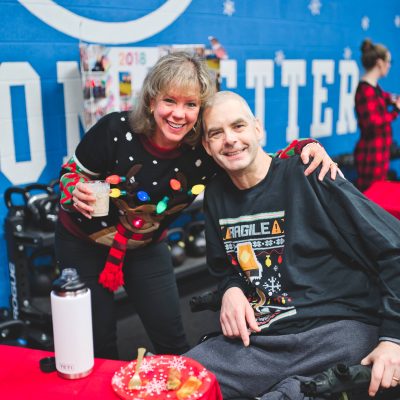 After recovering from his first bout with cancer, he ecstatically returned to Bent On Better, where he got quite the scolding from Matt for hastily wanting to work out. Nevertheless, his community welcomed him back, and although they were accommodating, his coaches were paying close attention to how he was doing in every routine. He had asked permission from his doctor to continue exercising and later found himself back to stretching and coordinating with Nick and Alysha for a balanced fitness routine.   
When cancer from his left leg came back, Glenn sought help from various sources like the University of Pennsylvania, which described the cancer cell as having an unknown origin. During his days back at the hospital, Glenn found himself isolated once again but never truly alone. He was flooded by messages from his Bent On Better family wishing him a speedy recovery. 
At his weakest, Glenn made it a point that he had to keep fighting. He had his business, his family, people who depended on his business, and his gym family to fight for. "If nothing else, (do it) just for the community."
To you who are reading this, if you are someone who looks for community while being on your journey to good health…take it from Glenn:
"You've got to learn to accept the differences because that's a huge part of what this is about. It's about letting people have their own fitness journey in a way that helps them grow, be stronger, be the best version of themselves they can and want to be.

If you don't do something, you won't be living your best life. You need to find a way to stay active and to stay in shape…and what I'll tell you is if you do it here (at Bent On Better) and you get yourself here consistently, you'll find that you'll want to do a little bit more. Before long you'll be like, "Oh wow! Look at me, I'm in great shape!" and it wouldn't have felt like work, it would have felt like getting together with a bunch of friends and having a good time."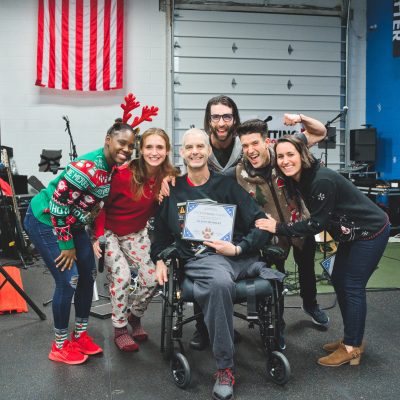 From your friends and family here on Bent On Better… we'll always remember you, Glenn, as an important part of what makes our community all the more Better.
Watch the Better Fitness Proof Podcast here: