Our Aspirations Are Our Possibilities
another Wellness Wednesday from Bent On Better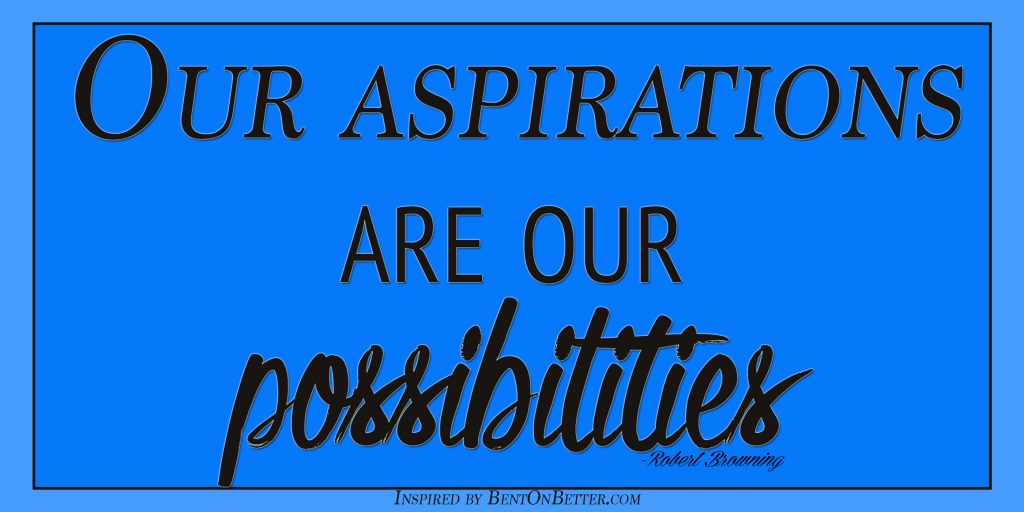 ---
---
[smart_track_player url="http://traffic.libsyn.com/bentonbetter/What_are_you_capable_of_doing.mp3″ title="Our Aspirations Are Our Possibilities" artist="Bent On Better" image="https://www.bentonbetter.com/wp-content/uploads/2015/06/HEALTHFITNESS.png" social="true" social_twitter="true" social_facebook="true" social_gplus="true" social_linkedin="true" social_pinterest="true" ]
---
---
What does it mean to aspire?
To aspire is to direct one's hope or ambitions toward achieving something.
Now ask yourself, what is that something in my life?
What is my passion?
What is the one thing (or things) I love to do?
What is the one thing we wish we could do every day, with or without concern of compensation?
Once you have something in mind, that is your passion! Too often do we let work, school, friends, society, the news, celebrity gossip, and outside influences alter our realities.
We think we need to be prettier, smarter, have more money, nicer objects, but really, all we need is more me-time.
Walt Disney once said, "if you can dream it, you can do it."
He was so right!
Your aspirations truly are your possibilities.
Thanks for joining me again this week, I'm glad you decided to come back. 
Have some feedback you'd like to share?
Interested in a topic we covered in this session?
Leave a comment in the section below.
---
If you enjoyed this episode, please share it using the social media buttons you see at the bottom of the post (or just copy and paste the link wherever you want to share it, that would work too!).
Also, please leave an honest review for the Bent On Better podcast on iTunes! Ratings and reviews are super helpful and extremely appreciated. They do matter and I read every single one…and to be honest, they help make all of this worth it.
If you have any questions you'd like addressed personally, feel free to email me at Matt@BentOnBetter.com.
Lastly, don't forget to subscribe to the show on iTunes to get automatic updates, available for both iOS and Android on Stitcher!