Resistance Machines
vs
Free Weights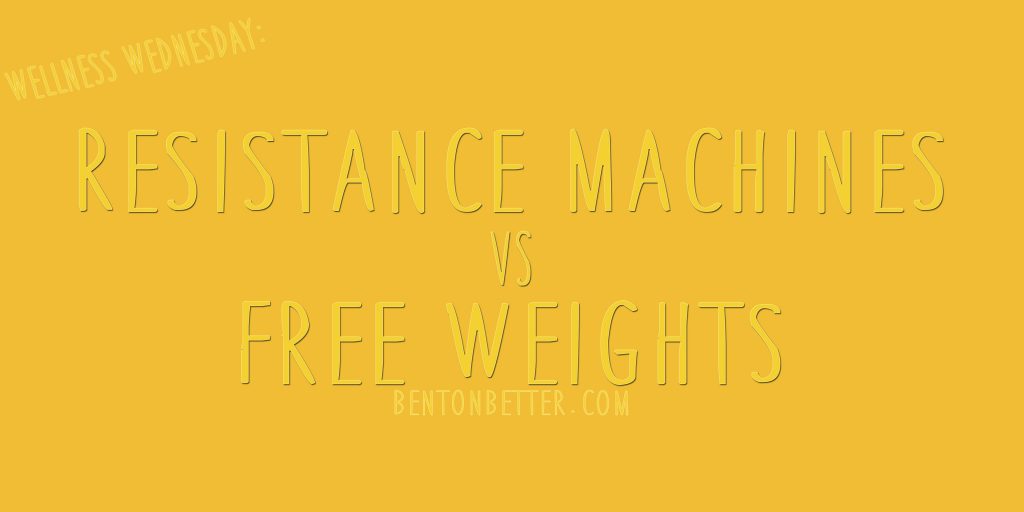 Another Wellness Wednesday post from Bent On Better 

---

"The only person you are destined to become is the person you decide to be."
-Ralph Waldo Emerson

---
[smart_track_player url="http://traffic.libsyn.com/bentonbetter/Resistance_Machines_vs_Free_Weights.mp3″ title="Resistance Machines vs Free Weights" artist="Bent On Better" image="https://www.bentonbetter.com/wp-content/uploads/2015/06/HEALTHFITNESS.png" social="true" social_twitter="true" social_facebook="true" social_gplus="true" social_linkedin="true" social_pinterest="true" ]
Welcome to the place where better means becoming the best you.  Today's Wellness Wednesday topic is resistance machines vs free weights.  This question was submitted via the Bent On Better SpeakPipe app by Chris Harper.  
Chris, I loved to hear that you've made the DECISION to become a better version of yourself.
Remember, small and consistent efforts over time will lead to long-lasting results and habits.
Fitness and overall wellness are not hobbies, they are a lifestyle choice.
Resistance machines are the pieces of equipment usually found in a gym which incorporate a weight stack and pulley system to provide resistance against a fixed movement.
Some large multi-station weight machines allow a variety of exercises for a full body workout.
Resistance machine advantages:
-Focus on one muscle group at a time.
-Go through guided and specific range of motion (ideal for beginners to strength training or someone going through a rehabilitation phase)
-Assists with control of movement.
However, resistance machines have some disadvantages.  The machines are not functional to everyday movements.  They focus on only one muscle group at a time.
Free weight advantages:
-Functional to everyday movements.
-You can increase strength through a full range of motion.
-Sport specific movements can be trained with free weights.
When training with free weights, you can strengthen large muscle groups at once, saving time and increasing overall heart rate.  However, free weights require more coordination and control than machine weights which guide you through a fixed range of motion, which means they can be more challenging.
It is more difficult to bench press 95 pounds of free weights than 95 pounds on a machine press due to machine assistance.
There are a couple disadvantages to training with free weights.  Someone training with free weights may need a spotter if lifting a heavy weight.  Another important factor is knowledge of proper form during the lift is vital for injury prevention.
*If you're new to lifting, or unsure of anything, please consult a fitness professional to minimize any risk of injury.*
---
Thanks for joining me again this week, I'm glad you decided to come back. Have some feedback you'd like to share? Interested in a topic we covered in this session? Leave a comment in the section below.  
If you enjoyed this episode, please share it using the social media buttons you see at the bottom of the post (or just copy and paste the link wherever you want to share it, that would work too!).
Also, please leave an honest review for the Bent On Better podcast on iTunes! Ratings and reviews are super helpful and extremely appreciated. They do matter and I read every single one…and to be honest, they help make all of this worth it.
If you have any questions you'd like addressed personally, feel free to email me at Matt@BentOnBetter.com.
Lastly, don't forget to subscribe to the show on iTunes to get automatic updates, available for both iOS and Android on Stitcher!