Who is Diane?
At Bent On Better, we have many strong women–may they be from our coaches or our members. One exceptionally resilient lady shines bright amongst our all-star members, and that is Diane Yannick. This septuagenarian (73 and going strong!) has dedicated her life to teaching, spreading her love for literature, and staying fit for herself and her grandchildren.
Before she became a member of the B.O.B. fitness family, she was a middle school teacher for 35 years. She was a reading specialist and was passionate about teaching kids how to have a greater appreciation of books and the stories they can tell. During that time, Diane already continued to exercise whenever presented with an opportunity by the school she was working at.
As dedicated as she was to being a teacher, one sudden fall was enough to give her a brain injury that resulted in her early retirement. It was a difficult time in Diane's life as it took her a whole year to see her students again. When she returned, it was to tell them one last story about The Paper Bag Princess, a strong heroine who did not need a man to have her own happy ending. Like the princess in the story, Diane continues to live out her life even when faced with many adversities, with sheer will and determination.
Before Bent On Better
Diane first met our fitness coach, Matt April, at the West Chester YMCA. Back then, she already had a bad knee and had fallen a lot throughout the years. She went back to exercising after focusing on her rehabilitation at the hospital.
What put Diane off with the aforementioned gym was that she did not expect to be weighed on a scale every week before her workout since it was not in her goals. She simply wanted to get stronger. After meeting Matt and getting to know his views on fitness, Diane thought she'd follow wherever Matt would teach and sign up if he ever decided to start his own gym, leading her to where she is now, as a consistent member at Bent On Better.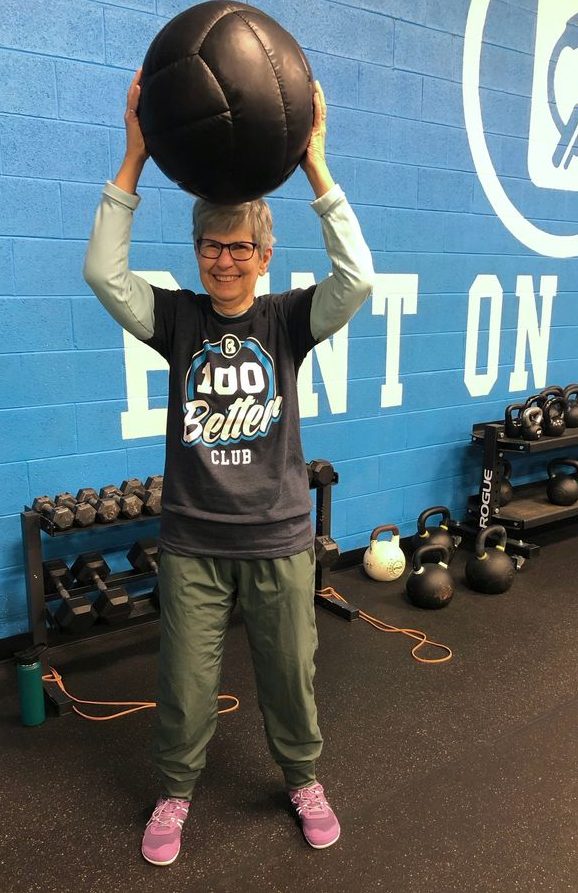 Her Experience as a Member of the Bent On Better Fitness Family
Before the pandemic happened, Diane was helping out 1st or 2nd-grade school teachers for one afternoon every week. When COVID hit, she decided to set up a tutoring room in her basement, wherein she taught around six kids to be better readers and writers and develop a love for literature themselves. Diane is also a volunteer at the West Chester Uptown Theater and has run a book club for 12 years while staying consistent with her overall fitness and health. 
At the moment of recording, Diane is still dependent on her pacemaker after being warned by her cardiologist about her declining state. After continuously putting her health first, Diane finally got the "okay" from her physician and has been a consistent gym-goer. 
Of course, as coaches, we want to put our members' health first, which is why Diane also needed to get her coach, Nick April's approval and careful consideration so she could continue with her exercise. 
"He's my cheerleader. He just knows how to take things gradually and make them just a little bit hard." Diane about her fitness coach, Nick April.
When she was starting, Diane recalled how she had a hard time doing squats on the TRX but can now proudly say that she can do ten squats independently. Seven years ago, she used to fall and not be able to figure out how to get up. Now she knows three ways to get up while also maintaining proper posture from all her exercises. 
"Every lesson he plans just as carefully as I plan my reading lessons, but if he has to change it because I have sore shoulders, he'll adjust it–but will always move forward, maybe not that time but the next time. I really feel committed to working his program, and for me (I don't mean to sound all dramatic but) it's really life-changing because I feel much more stable." -Diane on her experience with having Nick as her coach at Bent On Better.
A Reason To Join Bent On Better
Diane explains that her fitness program at Bent On Better is always curated based on her goals and what she needs. Back then, she was dependent on her cane to be able to move from one place to another, and she's expressed her desire to not be on a cane again. 
"I just feel better–when I walk out of here I feel like I've done something important and that I have a friend here (more than one). I have friends here who care about my progress. They don't just point to a random machine and say "do that for 10 minutes". It's like, "what can we do to make your body stronger?" "-Diane Yannick
Diane looks to her grandchildren for motivation. She's expressed her desire to see them graduate and get married. She wants to be there for these wonderful moments when they do happen and she wants to continue to keep herself strong not just for herself but for them.
It's never too late to start feeling better physically, mentally, and emotionally. Take it from Diane.

Diane's Message
"Just don't give up on yourself. Sometimes I get discouraged by how long it took to get through a step or a range of surgery. But always see that light that will lead you in the direction you want to go. I've really had a rocky path and I just feel so upbeat at age 73 turning 74 and I want you to feel that way too. I want you to know that this isn't a run-of-the-mill place, this is a personalized, caring place that will celebrate your victories and share your bad days." – Dianne Y.
Much like the heroines in the stories that Diane likes to read, even when faced with many setbacks, we really only have two choices: give up and let the situation diminish us, or continue to push forward. Diane has proven to be the phoenix that continues to rise from the ashes by never letting a setback get in the way of her right to live a healthy life.
Watch the Video Here: