Show Notes:
Eileen and Her Love for Running
Eileen had a lifelong passion for the sport of running. Runs helped her maintain her sanity and provided her a time off from her husband and children. Her friend encouraged her to start running long distances one day, and she kept going from there, eventually completing three full marathons. Her right hip began to bother her just as she was preparing to run another marathon.
Her leg became unbearably tight and painful after 10 miles of running one day, and she was unable to continue because of the discomfort. To prepare for the marathon, she took a break and attempted to get back up, but she couldn't, and the pain just kept returning; she tried different footwear and all kinds of other things, but nothing seemed to help. And this leads to a bunch of other issues.
Taking out running from her daily routine meant losing her natural source of happiness hormones. During the perimenopausal period, her hormones began acting up, causing her to become depressed. She's always known exercise was the answer, especially since she had gained weight and was not as mobile as before. So she joined up for a gym membership, but she found it challenging to stick with it for long periods of time. They signed up for another gym, only to have their memberships renewed and then canceled.
When her husband found Bent On Better by chance and signed up, he would come home from a workout elated and excited – something that hadn't happened before when they attended other gyms. After her husband's relentless prodding, she eventually decided to join Bent On Better.
The Community
Getting into the Bent On Better gym was an entirely different matter. Eileen sensed the positive energy. There was never a dull moment. She wishes more businesses and schools shared the gym's optimistic outlook because the world already has far too much negativity. The feeling of community is there, people are always supporting each other, they know each other by their first names, they hang out after gym, and most importantly, Eilleen and Dave would come home after a workout happy and less cranky. The "dancing queen," as Eileen is affectionately known, can have a good time, laugh, and dance around while working out.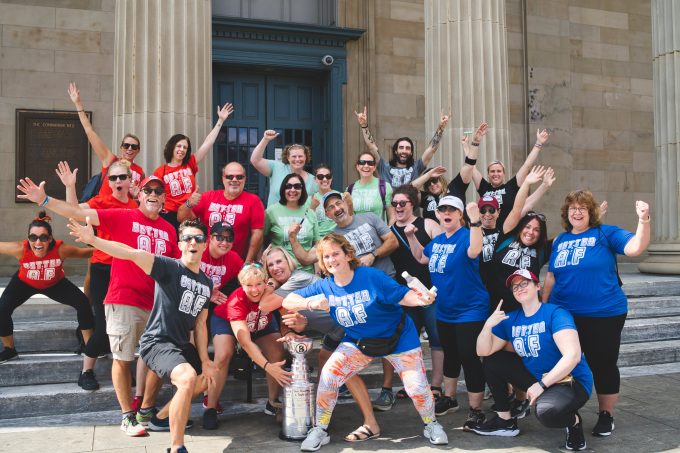 What
Eileen

Learned from the Workouts

As a Bent On Better member, Eileen learned how to get results without enduring the agony of working out. Her legs and knees used to suffer after she worked out, and she assumed that was just a part of the process of getting in shape or losing weight. With Bent On Better, Eileen learned that something is going wrong or something is not done correctly that's causing the pain. She also learned how to use more of her body and engage her core constantly.

Being mindful of her posture was also one of her key takeaways. She learned to bend correctly or lift things the right way and not just use her back to lift, which helped avoid knee injuries. With the coaches' constant guidance, she is able to put what she has learned at the gym into practice in her daily routines.

Eileen was also grateful that she didn't have to feel ashamed to continue working out in front of others if she felt any pain or discomfort. The Bent On Better coaches took the time to help members with injuries or those who had recently undergone surgery to still participate in the workouts.
"You guys are so good at guiding us to be pain-free and we can recover to have an active life." – Eileen K.

Move well, move often, everything else will come in place – Matt April
Biggest Wins:
One of Eileen's most significant accomplishments has been her ability to stick to a regular fitness schedule. It has been three years with Bent On Better, the longest since her running days and without interruptions. There were a few downtimes, especially during the height of the pandemic, but she had kept going.
This gym had also saved her sanity. Because she suffers from depression, she understands that going to the gym whenever she's having a terrible day will help her feel better.
Another win is having her husband support her fitness journey. They love every moment of working out together at Bent On Better, cheering each other on as they both make progress.
When asked what she can tell to her previous self, during the time when she got the injury, the weight gain, the hormonal changes, and with the depression, Eileen has this to say:
"You're not alone, you're not the only person who struggles with these things, it's normal; don't hold it in, reach out to anyone who will listen to you. Exercise is one of the best things that help mentally because of the natural endorphins. If you want my number call me, I'm there for you. If you want to come here with me, I'll bring you here with me. I'll meet you anywhere for a walk. C'mon, I'm here, let's go, I'll hold your hand. I'll guide you along the way." – Eileen K.
Watch the video here: