Your Strong Fitness Foundation
---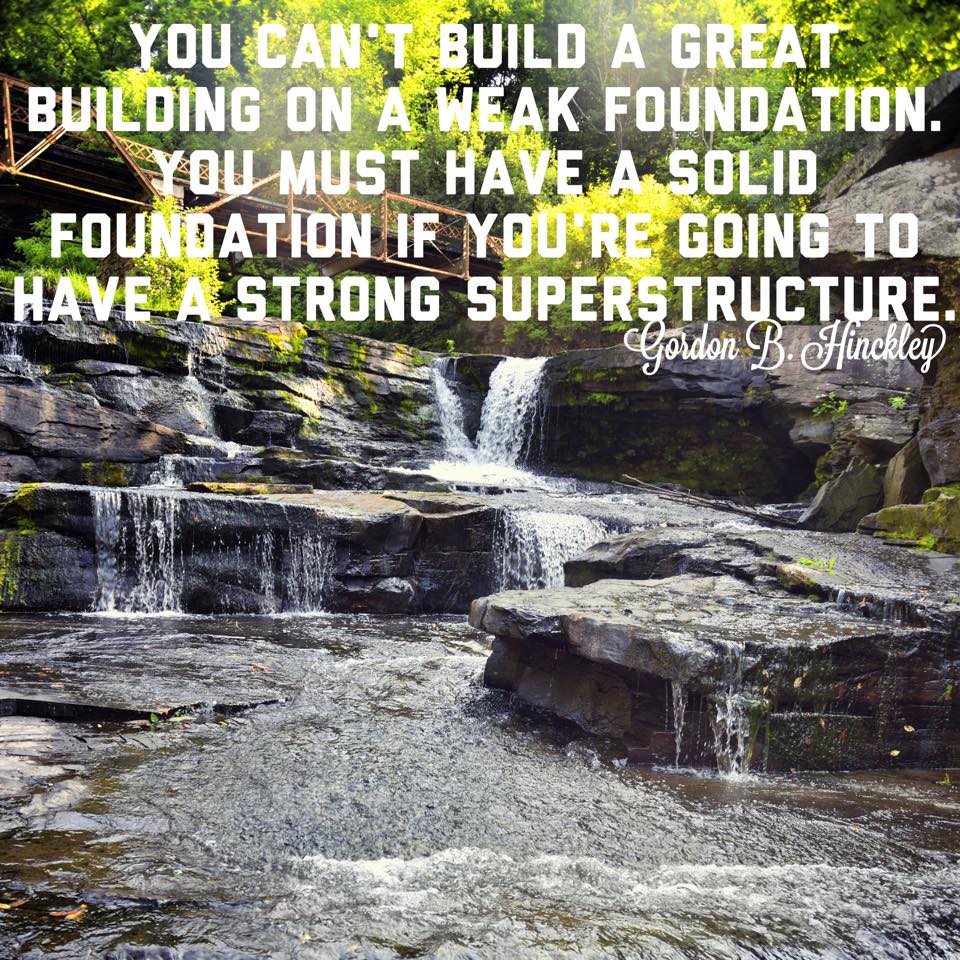 ---
Your body is your superstructure.
In order to maintain and live a healthy life, a strong foundation is crucial to your success.
STRONG FOUNDATION SUGGESTIONS
If you have very little or no exercise experience/training, start with small changes.
Develop healthy habits.
Regular eating patterns.

Regular sleeping patterns.

Regular exercise patterns/physical training sessions.
Monitor food intake.
Eat quality foods that are nutritious.

Make healthy choices.




-Increase fruit and vegetable consumption.




-Consume lowfat/nonfat dairy.




-Avoid processed foods.

Reduce/eliminate empty calorie food like candy, desserts, soft drinks, alcohol, etc.
Establish a cardiovascular program that is progressive and challenging, based on your initial fitness level.
Start with walking for a predetermined amount of time on a set number of days.

Increase the duration of the walk, increase the number of days you walk, and include some challenging terrain such as hill climbing, stair climbing, hiking, etc.

Progress into a running program, the same as you did for walking.

Remember to progressively challenge yourself.

Consider entering into a local race to gauge your progress.
If you have been physically active and you would like a progressively challenging program to allow yourself to grow and improve. Consider the following suggestions:
Running several times throughout the week.

Cross training such as cycling, swimming, etc.

Interval training

Plyometric training

Weight training/Circuit training
Have you received my two free eBooks for improving your overall wellness?  If not, make sure you click the button below to download those eBook and join the Bent On Better newsletter where I  share exclusive tips and insights ONLY with my subscribers.
[nz_btn text="Yes, let's do it!" link="https://www.bentonbetter.com/free-ebooks/" target="_self" icon="" animate="false" animation_type="ghost" color="orange" size="large" shape="rounded" type="ghost" hover_normal="fill" hover_ghost="fill" el_class="" /]
---
If you're new to the blog, welcome! Visit my Start Here page to get the low down on this whole Bent On Better thing.  If you're a regular, thanks for joining me again this week! I'm glad you decided to come back. 
Have some feedback you'd like to share? Interested in a topic we covered in this session? Leave a comment in the section below.  
If you enjoyed this post, please share it using the social media buttons you see at the bottom of the post (or just copy and paste the link wherever you want to share it, that would work too!).
If you have any questions you'd like addressed personally, feel free to email me at Matt@BentOnBetter.com.
Remember, even though you may be content with your current situation, there is always room to be better.  Now it's time to become the best you.
---