Before Bent On Better:
After graduating college in 2013, Tyler worked in public accounting right away and dealt with intense and heavy workloads; he worked 60 hours a week, long nights and Saturdays included, and hardly got any free time to see his significant other or family. 
It went pretty rough for him; he had poor eating habits, gained so much weight, had no time to do some exercise, and it was just an extremely stressful job that consumed everything about him. After almost five years of doing this exhausting job, he started experiencing ulcers. He mentioned this concern to his boss only to be dismissed as something that must be dealt with and can get used to. 
He had gone to several specialists to check his condition; some said it was an ulcer and others found it inconclusive. And after six months of experiencing this severe stomach pain almost daily along with the stress at work, Tyler decided to quit and switch jobs, and the pain just went away.
"If you are doing something in your life that is costing you actual physical pain then it's probably time to make a change." – Matt April
Getting into Fitness
After college, Tyler tried a few fitness programs, more like the home workout programs, and had been doing this for a year and a half. Although he performed all of them and kept up with the routines, he never really got the hang of anything. When he joined Bent On Better and began working with the trainers, he discovered how poorly he was completing the exercises. With Bent On Better, and with proper coaching, Tyler was able to figure out the best way to move forward.
Celebrating Small Wins
During Tyler's first four months of training at Bent On Better, his trainer Nick would constantly call out on him while doing Romanian deadlifts, advising him to adjust his form, where to put his weight, and other things. Until recently, Nick just walked over to him and was told he had a flawless RDL. Beyond this impressive feat, Tyler made significant dietary and nutritional changes that resulted in a loss of 10-12% of his body fat.
Conquering Mountains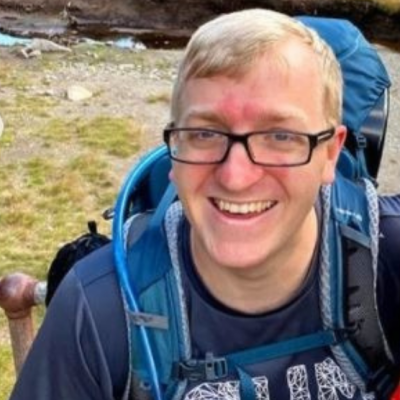 Through working out consistently, Tyler has become stronger physically and mentally, making him more prepared as he embarks on his three-day backpacking adventure to the Adirondack mountains attempting to climb a bunch of mountains and explore the magnificent wilderness. Through his daily squats and RDLs, he surely would be sturdy enough to carry a 40 lbs. backpack as he traverses through varying terrains of the Adirondacks. 
Tyler's journey transformed him from someone who suffers from job stress to someone confident in himself and his abilities. He learned to push through his limits and became stronger because of it. His training showed him that he's capable of much more than he thinks.
Tyler is a testament to the benefits of strength training and how it can improve one's well-being. Though he initially struggled with weight gain, he has since found a way to get back into shape by combining exercise and outdoor activities with his passion for adventure. He's certainly an inspiration to those embarking on their first climb or simply searching for ways to lead healthier lives!
Final words:
"For the person who has kind of worked out on their own, you would realize that the things you did could be improved upon literally in every area of fitness. The staff here [at Bent On Better] will help you fine-tune, improve, or modify to strengthen you. I've worked with all the trainers, and everyone has great pointers that they can recommend to you. Coming here to work out, you'd be stunned at how you can improve upon, whatever it is your goal like running or whether it is something weird that I do like backpacking and sleeping in the woods, just stop on by, you'll love it here." – Tyler H.
Watch the video here: