About Nikky:
Nikky is a single mother to an eight-year-old, a Certified Level 1 Animal Flow instructor, and works full-time as a lab technician.
Before Bent On Better:
Nikky struggled with her weight throughout elementary and high school. In college, she began the Special K diet, which involved eating two bowls of Special K cereal and 30 minutes of cardio, but she didn't know how to exercise and eat properly.
When she graduated, she got into a car accident that broke her right hip and she went through physical therapy for almost two years. During her time in rehab, she met an outstanding therapist who helped her discover her passion for helping people and taught her how to better care for herself.
As soon as she got discharged, she immediately began coming to the gym to better understand how to work out. For the next two years, she worked at a chiropractic clinic and realized just how every part of your body is connected.
"Working in therapy, it wasn't just about "oh these are the muscles you have to get stronger.. this is what you have to do to get your knee better…" it is about full-body rehab, it was also about stretching, making sure you're eating right, and sleeping; it was everything together, not just "ok you're in for your knee… we're just going to focus on your knee…" because then you got your hips, your ankles and your shoulders also, that can affect it, so there's a lot that I learned there." – Nikky 
Young Athletes Program and Joining Bent On Better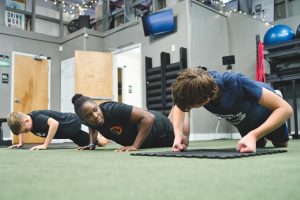 Nikky's son had watched her work out, and as he got older, he would join her and make up his own routine that eventually led him into sports. He does floor hockey, he wants to get into ice hockey, he swims, and he also used to do gymnastics. Nikky had enrolled him in Bent On Better's Athlete Development Program to help him with his sports performance. Over a few months, her son developed confidence and could relate the program to his sports. He gained confidence in training for more sports, knowing that Bent On Better would help him get stronger and more flexible.
With everything that Nikky accomplished and learned about movement so far, and while working out on her own was great, she still decided to join Bent On Better for overall wellness and be in an atmosphere where people are encouraging each other. It has given her an additional motivation to keep going.
"I don't want to say I know more than a lot of people, but like you said, there is still stuff I don't know; yes I'm in the gym I can squat and deadlift and bench press and move certain ways but sometimes, just having someone else there to help or catch something like having someone to call like "hey watch your knee or spread your knees a little bit more" and for me, I feel like you should never stop learning, as as you get older until the day you die there should still be something that you're learning" – Nikky
On Taking One Day at a Time
Nikky has learned that life is a journey, not a destination. The fitness journey is certainly no exception to this rule. Getting, or staying, in shape is a big task. It certainly is a process that won't happen overnight. But it's also something that you can and will achieve if you stick with it. And to make sure you keep working towards your goal, try taking it one day at a time. That way, even if you're not seeing the results yet, you'll be able to celebrate the small accomplishments along the way.
"One thing that I have to keep telling myself is that there's no deadline. Some people might have deadlines; they want to do a 5K in October or do a powerlifting competition in 2022 or whatever, for me there is no deadline so I have to remember that I don't have to get back where I was by next week. It's going to take time, especially since this is a lifestyle. I want to work out and do all these until hopefully I'm 99 so I have my whole life to keep working on myself. Of course, you want results as soon as possible but I just have to remember, just take it slow you'll get there if you just keep at it, keep working on it, you're going to have your bad days but you're going to have your great days so you just have to take it one day at a time." – Nikky