Zoodles Will Change The Way You Eat Veggies
---
---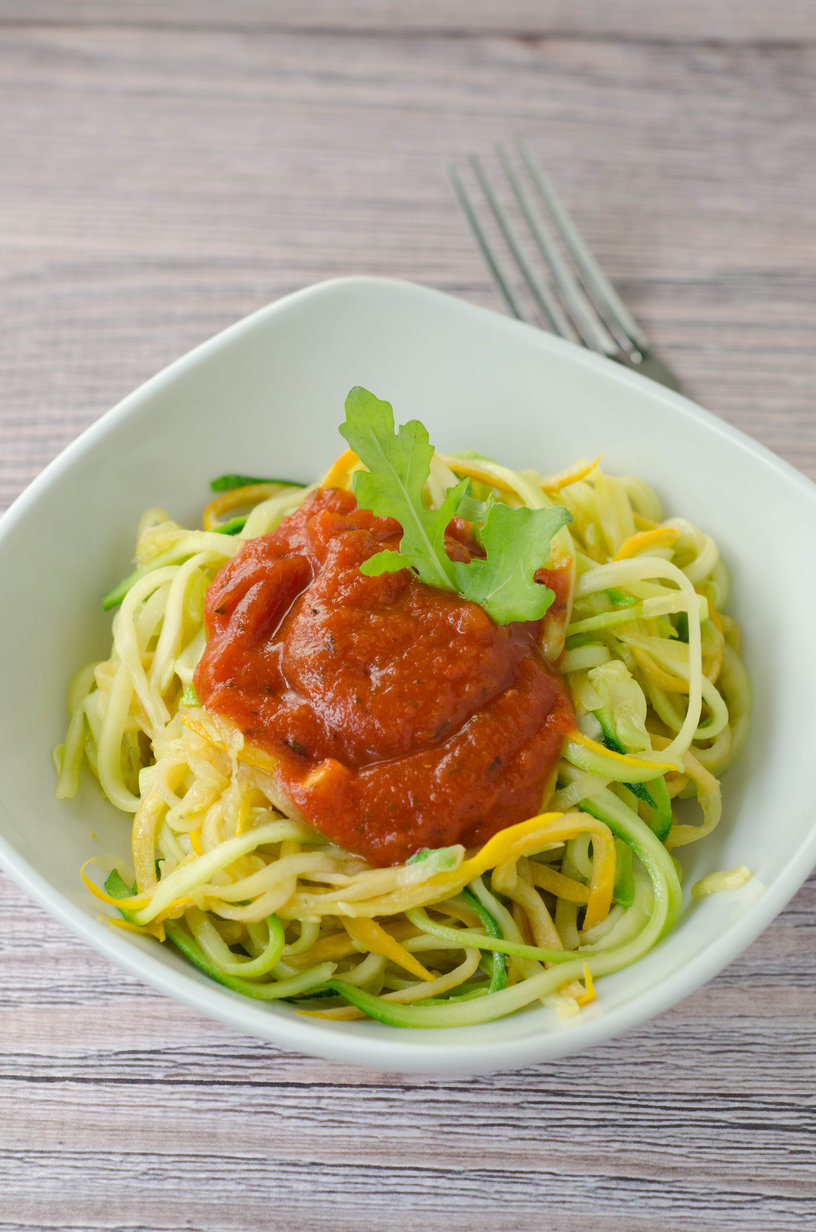 ---
---
Oh, zoodles. ♥
Yes, you read that right, "zoodles."
No, that's not a typo for "noodles."
I meant to type "zoodles."
Growing up, pasta was a staple in our household. It would take about 10 minutes total, and we would have dinner hot and ready… But now that I'm an adult and MUCH more health conscious, I needed to find myself a new way to enjoy pasta… Enter ZOODLES. What are zoodles?  Well, if you've been following the latest trends in the healthy part of the culinary industry, zoodles are becoming the newest and hottest (pun intended) things to hit your plate since sliced bread was hip!  (Before we realized eating too much sliced bread did nothing but make you have more hips…that's a muffin top joke if you didn't catch it.)  😉
Zoodles are the noodle-like shavings created by vegetable spiral slicer, also known as a vegetable spiralizer, or zucchini pasta noodle spaghetti maker.
So, how do you make zoodles? 
Quite simply, actually.  
There are mainly two ways:
1. The hand-crank system with a vegetable spiral slicer such as the Spiralizer® Tri-Blade Vegetable Spiral Slicer.
2. The handheld vegetable spiral slicer, as depicted below, is made by many different companies.  The one you see below is the one I own and it is made by The Very Healthy Spiral Slicer.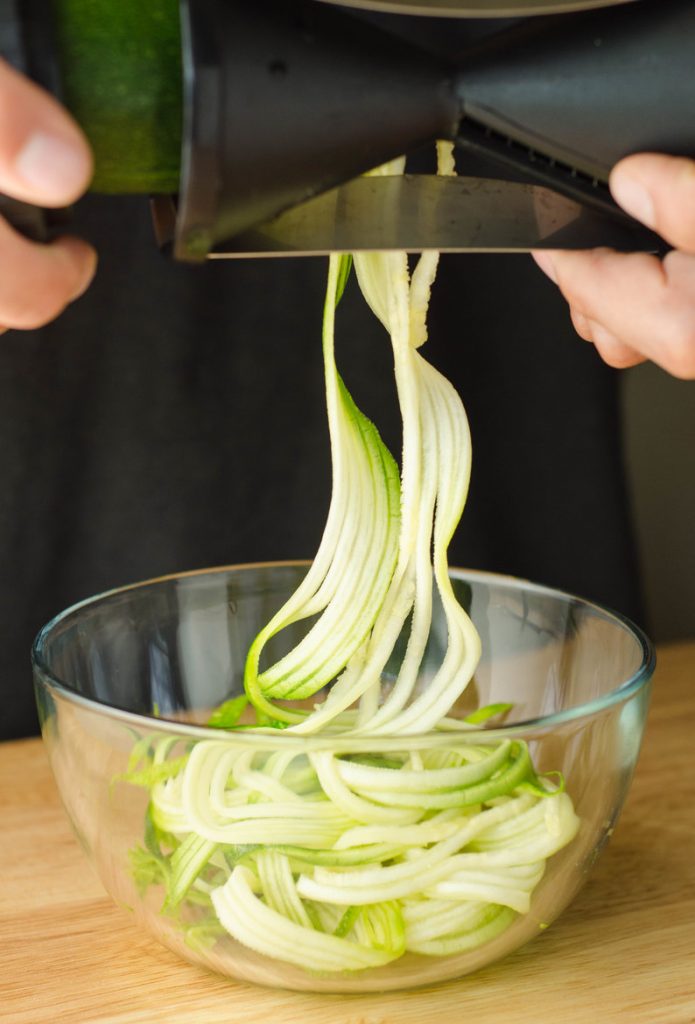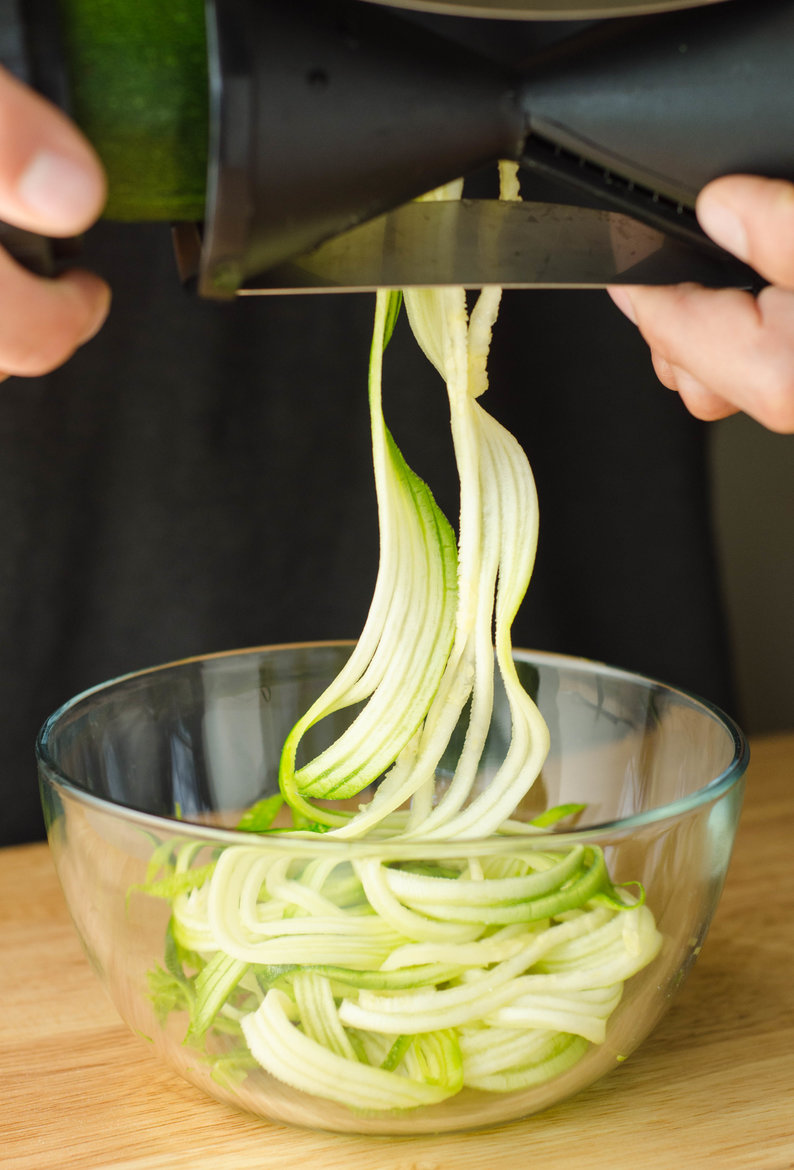 There are many benefits to owning one of these bad boys. Here are my top reasons you need to start eating zoodles and zoodling (yes, I made that word up, just let me be creative) with a Vegetable Spiralizer:
– The Vegetable Spiralizer helps to make low carb/Paleo/gluten-free meals
– You know exactly what is going into your food
– You can easily get more than one serving, without even realizing it, in one meal
(which in this case is a GOOD thing)
– You're consuming less complex, processed carbohydrates
– You're saving money on foods that are very low in nutrients
(i.e. angel hair pasta)
– You can make as much or as little as you want
– You're improving your health by consuming more nutritious, fibrous foods, that are known to have many health benefits
But do you know what is the coolest part about these handy little tools?
You know exactly what you're eating: vegetables.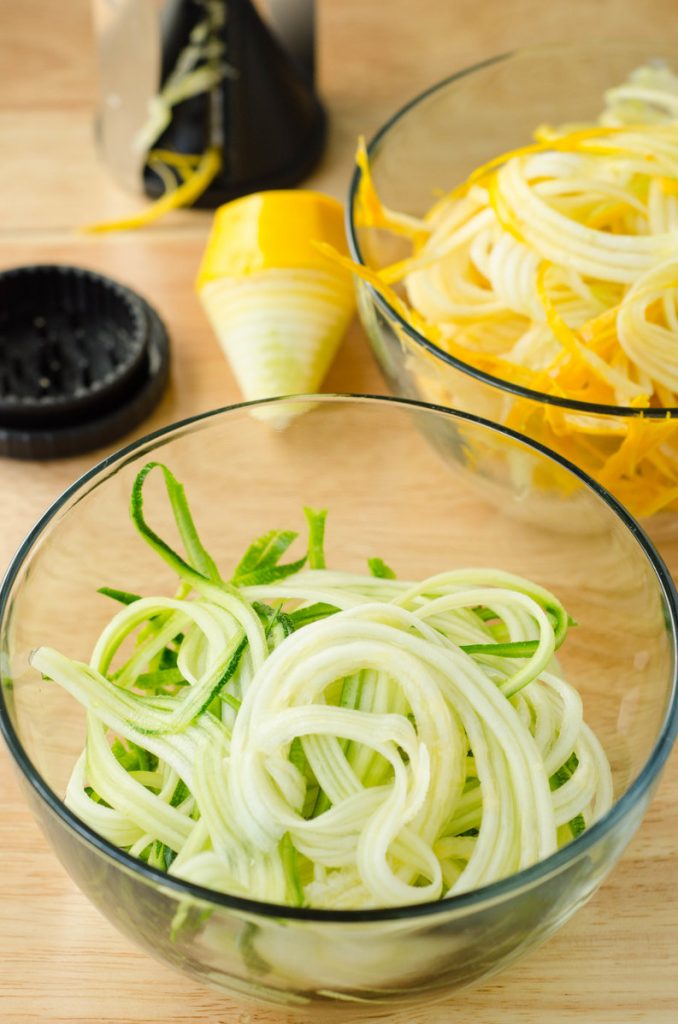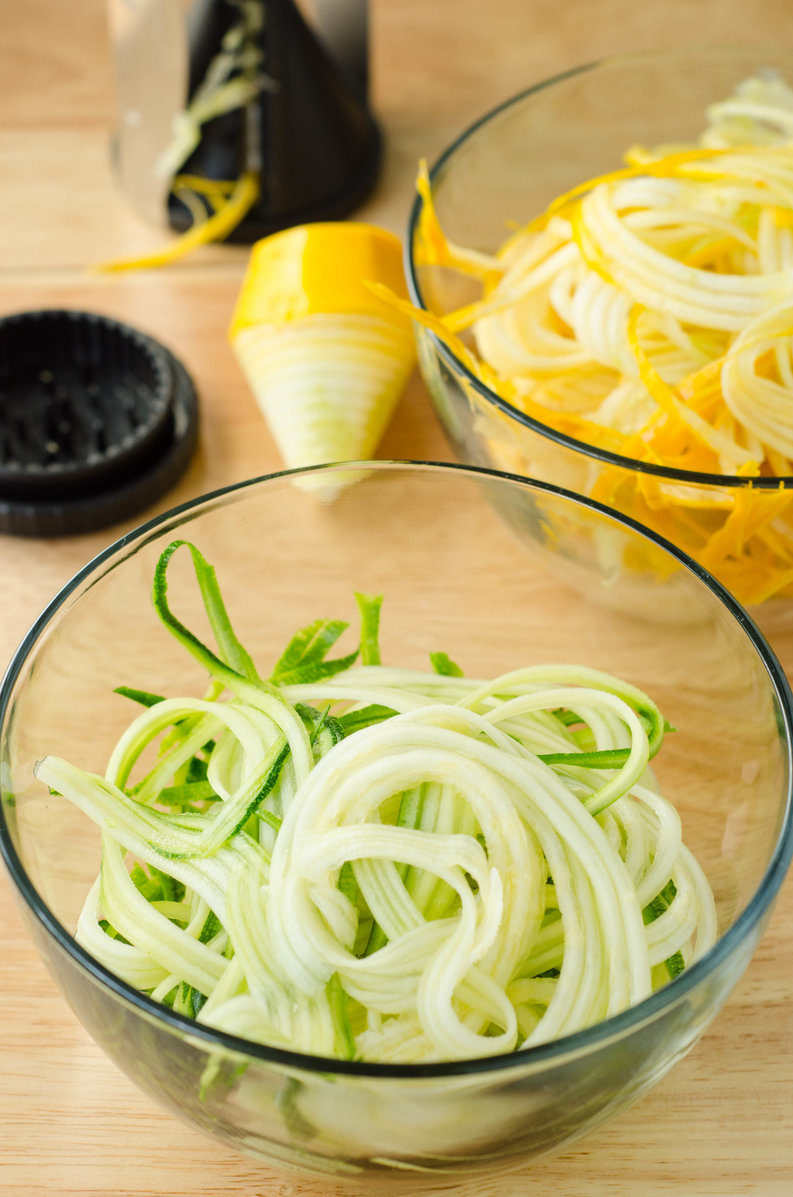 If you decide you would like to give one of these outstanding spiralizer tools a try, please consider clicking any of the links provided in this post.  The links provided are my Amazon affiliate links (to read more about what an affiliate link is, visit my Affiliate Disclaimer page at this link. There is no additional cost to you, but when you use one of my links, it helps support the blog and podcast).
So what are some tasty ways to enjoy these stringy sensations and how do I prepare them?  Honestly, just about any way you would consume a typical serving of spaghetti pasta (thin, angel hair, etc.) works for zoodles.  Some of my favorite ways to enjoy this dish are with the any combination of the following:
Green squash (zucchini) and/or yellow squash
A homemade or clean/all natural red sauce – my favorite sauces are made by Simply Enjoy (a Giant store brand). If you're going to buy a premade sauce, which is ok to do, make sure you read the ingredient label to insure everything in the sauce is real food and there is little to no added sugar and NO additives.
Lean ground meat (I use a 92% ground beef or a 94% ground turkey)
A pan fried egg or two
Freshly grated Parmesan cheese
See? Anything you would typically eat with a pasta meal, you can eat with zoodles!
---
---
How to prepare zoodles:
Using your Spiralizer, spiralize your squash into desired amount.
Then, add a tiny bit of olive oil, butter, or coconut oil to a pan.
Once the pan and oil of choice are hot, fry the zoodles for about 2-3 minutes, just until they are fork tender (shorter time will give you a more al dente texture, longer time will create much softer zoodles).
*Be careful not to overcook as zoodles will become soft and squishy quickly!*
alternative option:
steam the zoodles for about 2 minutes for the same tender/al dente texture (this can be done in the microwave as well!)
---
---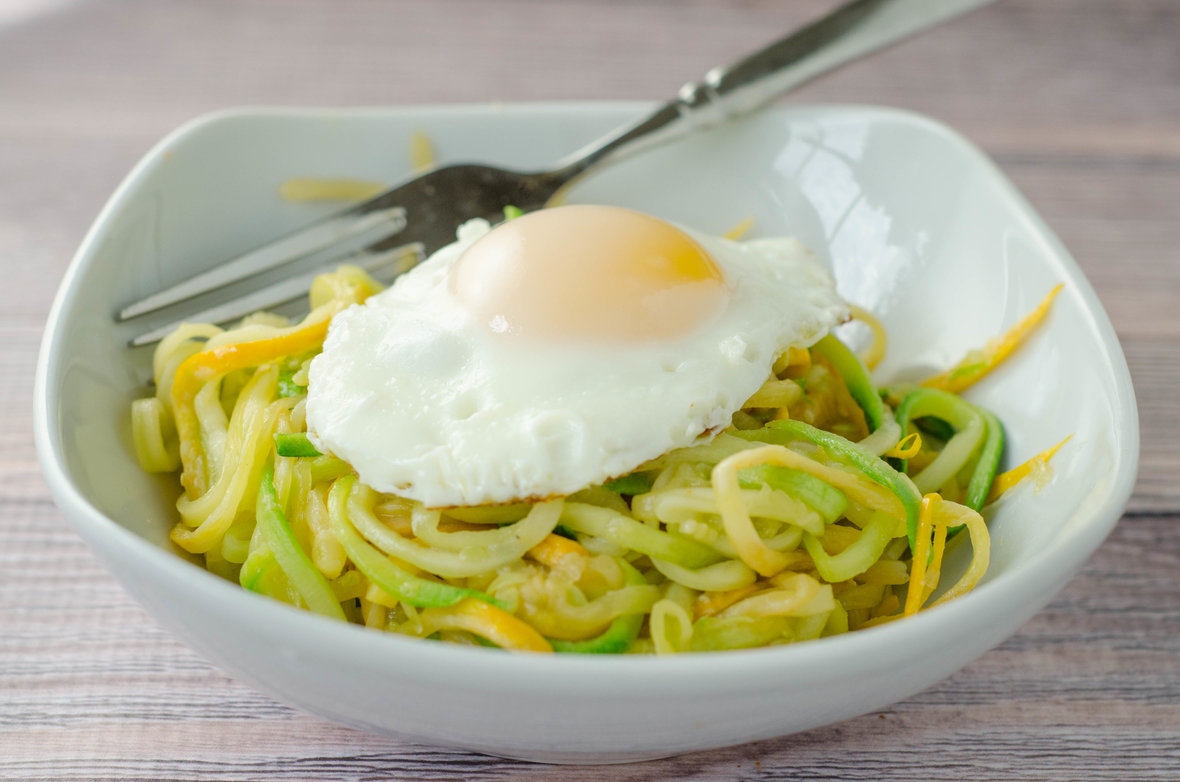 Do you want to improve your diet?  Do you want to start eating more veggies (or as the health professionals say, vegetables)? What are you waiting for?  Any brand, make, or model of a Veggie Spiralizer will help you!  Don't put it off, just get one…you can thank me later.  😉